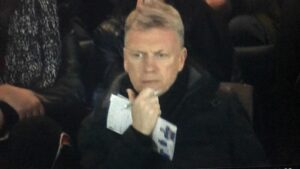 isappointed David Moyes was delighted with the way the Hammers performed at Liverpool but declared: "I would sooner say we were rubbish and have points."
And speaking to Sky Sports he added: " We did a decent job for long periods and we are disappointed not to have one point if not three."
It was massively disappointing to see keeper Lukas Fabianski commit two errors which led to goals and Moyes was probably as gentle on the keeper as he could given the stopper's heroics in previous games.
He said: "He has done so well for us but when you make a mistake it's important to get over it and not to do it again.
"I think there's a lot more to come from us. We can get better than this but we have to improve on passing and other areas of the game.
"WE did well tonight but overall it wasn't good enough. We played a different way to the way we performed against Manchester City – we tried to win but it's very hard here. These were bonus games for us and we g on from here."
ClaretandHugh says: Moyes' bitter disappointment was all too easy to understand after an outstanding Hammers performance, perhaps – even in  defeat – their best of the season so far. However, there was one flaw in his assessment . For reasons which remain unclear he chose to take off Anderson who was making a decent return for Hallers and it was from there that the wheels fell off from 2-1 up to beaten 3-2. Ok it was his first match back but the reality of the substitution soon became apparent and that really was a major disappointment. Had he brought on Bowen at that stage in a more like for like switch it may have been a more acceptable change.