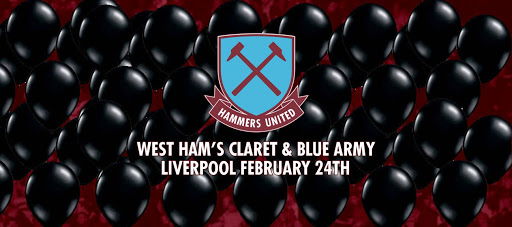 Hammers United are planning a Black Balloon protest and banners at Anfield this evening which is broadcast live on Sky Sports in the UK.
Up to 1,800 West Ham supporters will be travelling to Liverpool tonight with a reduced allocation from the 3,000 they would usually take.
Every Premier League game is broadcast to 188 countries and available in 978 million homes.
Supporters of the anti board protest have been asked to release black balloons and hold up banners against the West Han owners as the teams come out for the televised 8pm kick off.
It has been reported Liverpool supporters in the Kop end may also join in with their own banner if a generous donation is made to their food bank collection.
The away protest comes five days ahead of a protest walk along the Greenway as West Ham face Southampton at the London Stadium this Saturday.
The balloon protest mirror scenes seen in the early nineties when Hammers fans protested against the unpopular bond scheme. I have just been reading a book called Rebellion: The Growth of Football's Protest Movement by Dougie Brimson.
The book written in 2006 has a chapter about about West Ham written by Jim Drury on the Bond Scheme and Brown Out protests organised by Supporter groups of the time HISA (Hammers Independent Supporters' Association) and WHISTLE (West Ham Independent Supporters Trust London East). Several parallels can be found of the protests of the nineties and and the more recent ones.
Meanwhile, the Hammers players will warm up in T shirts to honour the 27th anniversary of Bobby Moore's passing.