West Ham are "really struggling " with injuries and there doesn't appear to be any hope of an immediate serious relief from our problems.
However, the good news is that nether James Collins or Morgan Amalfitano who limped off at the end of Saturday's bruising clash at Goodison are unlikely to miss the weekend.
However, as previously reported the only probable return to action will come from Chiekhouis Koutaye who was fatigued ahead of the Everton match following international duty,
The condition of the injured players individually is being kept very much under wraps by the club but in a bleak assessment earlier today a source said: " They are generally far worse that thought on two or three  players.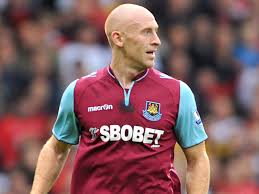 "I'm sorry to have to say that we really are struggling for the next two to three games and we are keeping everything crossed we suffer no more."
"Both James and Morgan are likely to be available for selection."