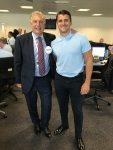 Welcome to our latest CandH blogger Harry Rawlings who has been looking across Europe and at home for the ideal new Hammers boss – Harry is on the right!!! 🙂
There are few certainties in life but Slaven Bilic's departure from West Ham appears to be as predictable as Christmas arriving on December 25.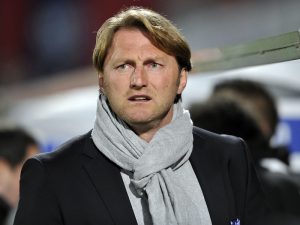 Just when he goes is not quite so obvious as the board are right now unable to find suitable candidates either on a permanent or caretaker basis. 
Besides being a massive West Ham fan I enjoy European football and see three ambitious, but achievable management targets along with one British-based manager the Hammers should  be looking at as their next boss. However, they will have to wait until next summer  as I certainly can't see them leaving their  clubs now.
What's to be done  until the end of the season is something else again but I believe hiring a reliable caretaker would work although I really wouldn't be surprised to see Slaven serve out his final year. 
What needs to be accepted right across the club is that any manager should control  every footballing aspect and shape its whole ethos.
Another point that needs making is that despite managers being the most important figure at a club, they are still cheap in compery best available and patarison to players with no transfer fees being involved of course.
We need to push the boat out and pay the going rate if we are to take our place at the top table. Were we to pay the same for a top manager as we have done for a squad player in Andre Ayew, we are looking at a deal of about £30 million over three years  That gets you a man on a par with  Zinedine Zidane at Real Madrid, higher then Klopp, Conte and Pochettino.
I think our current squad is the best outside of the top 6/7, and now we just need to right man to take control of it and get it playing to its full capability, whilst developing our fantastic youth players  at the club, and really building a team of which we can be proud.
Here are my candidates

My number one choice would be Ralph Hasenhüttl (top right) who manages RB Leipzig in the Bundesliga and guided them to a second place finish in the 2016/2017 season after promotion. They are currently third  just a point off the top and are second in their Champions League group. Earlier  he worked for Ingosladt in the German 2nd division saving them from relegation, promoted them, and secured their Bundesliga status before leaving for Leipzig. 

He places a lot of trust in his youth players and turns them into stars. The main three are Timo Werner who now starts for Germany, Naby Keita and Emile Forsberg – both linked with Europe's top clubs. 

Hasenhüttl plays a very high and aggressive pressing game with high scoring results in a 4-2-2-2 which is adaptable. His team vary either a well worked build up play, vertical passes using their speed on the counter or hit the long ball to their big target man Poulsen. This makes them so hard to defend against as they have various ways of breaking a team down and he plays each game as it comes.
West Ham have a mix of of  pace, power, technical ability, height and goal poaching in their team which he could mould to his philosophy on the game, I believe a top European club could take him but there are only a certain number so if we get in there soon and pay him enough money they he could come. 

Given some would say our owners are tight, the fact he has done so well on small budgets is a great thing because he puts so much time and effort into developing young prospects into fantastic players.

The record:
O Promoted Ingolstadt from bottom team in second year
O Works well with small budgets
O Trusts youth team players 
O High press and fitness 
O 2nd in Bundesliga, now competing well in CL 
O Will go to a top team, big wages could sway him 



Leonardo Jardim  is a 43 year old Portuguese manager who has worked his way up from grassroots youth level football starting at 22 years of age. He is renowned for doing more with less and last season won Ligue 1 in France with Monaco and took them to the semi finals of the champions league. 

West Ham are never going to be able to buy the top top players but if you can get a manager in like Jardim who creates great players and you can enjoy success with them before they move on then I believe that is our best chance of any kind of success. 

O Amazing achievement winning Ligue 1 and getting to the semis in Champions League
O  Has worked his way up from grass roots
O Much better team than West Ham have but he signed these young players and turned them into stars with Europe's top clubs buying their best players
O Made very astute signings to replace them
O Another manager heading to a top club but we could get in early 
O Favours 4-4-2 with a twist, inverted wingers who become play makers and gives space for the attacking fullbacks to get down
O Rigorous dead ball detail


O Got Valencia into Europe
O Favours a 4231, the best formation for our squad
O Vastly experienced 
O Nearly joined before and respected the owners for allowing him to go to Madrid
O Won many trophies 
O Used to working under active owners like G&S
O Safe option, tried and tested in EPL

Jorgé Sampaoli:
O Copa America with Chilie in 2015, led Sevilla to 4th in La Liga before joining Argentina.
O Marco Biesla disciple.
O High defensive line and aggressive press.
 Aggressive all over the pitch with a mentality to score and attack.
O Fluidity and rotation amongst players.
O Risky to implement, hasn't worked with Argentina recently.
O Highly touted, linked to Barcelona job 
O Depends on Argentina qualifying for WC but if we pay him enough you never know.
The views expressed here are those of the blogger and are not necessarily shared by ClaretandHugh