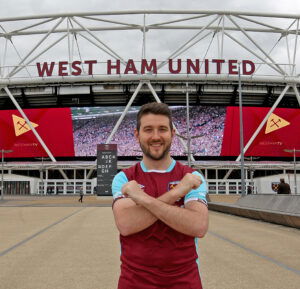 Brooking. Hartson. Di Canio. Lanzini: There's something about the number 10 and West Ham that just seems to go well together.
And now there's another 10 to add to the list – West Ham's biggest fanzine, Blowing Bubbles, has reached its 10th anniversary.
Launched by editor David Blackmore in 2012, the magazine has now clocked up more than 125 issues and has a dedicated readership, both in print and in digital form. You can secure a subscription to Blowing Bubbles by visiting 
blowing-bubbles.co.uk/subscribe/
Over the last decade, Blowing Bubbles – motto 'By the fans, for the fans' – has followed every twist and turn of the sometimes ecstatic and sometimes exasperating journey that has been West Ham's progress, from Upton Park to the London Stadium, from Carroll to COVID, from Allardyce to Zouma.
The club's co-owner David Gold has regularly shared his thoughts with Blowing Bubbles, as have many of the biggest names in club history in the Big Interview feature.
Along the way, Blowing Bubbles has built up a team of passionate, informed and witty writers from around the world, all of whom have one thing in common – their devotion to the Irons.
Then working as a senior newspaper reporter, David says he was inspired to start it up as a more ambitious and imaginative alternative to some of the fan offerings already available at the time.
"When we launched, I didn't foresee it being a long-term print project, I thought that format was on the way out," he said. "I didn't want to be standing on a street corner, shouting for people's attention.
"Digital magazines were all the rage at the time, so that's what I had in mind, one for each home game, rather than something printed that would go out of date very quickly. I wanted different voices, focusing on different things, and I thought there was a market for that.
"That summer we had just got promoted back to the top flight – I don't like to take all the credit, but since Blowing Bubbles came along, we've not been relegated! – and on the train back from the play-off final, I decided it was time to act on what I had been thinking about for a while.
"First of all, though, I needed some writers to give me something to put in it, and lucky enough a quick trawl of Twitter soon unearthed people like Lucy Woolford and Geoff Hillyer who have been there since the start."
The acid test was seeing what the punters thought, starting with the first edition at the first home game of the season, a 1-0 win over Aston Villa, and the learning process began.
"Despite saying I wasn't too fussed about print, I got 10,000 copies of the first edition made up, to launch it, and this soon made me realise that yes there was still actually a place in the market for print. I also soon realised that trying to do a new edition for every home game was hugely over ambitious, so I switched to a monthly product, which was much more sensible," he said.
"Slowly but surely we made progress, and started to pick up extra writers, and over the course of the next decade, much like the team it's all about, Blowing Bubbles has been on an amazing journey, so we enter our second decade full of hope and good feelings about the future – again, hopefully just like the team."
Former players and managers have been happy to give the magazine their time, and two shortlist places for Fanzine of the Year at the Football Supporters' Federation awards show that it is not just West Ham fans who are fans of Blowing Bubbles.
"Having ex-players Phil Parkes and George Parris as regular contributors is something we can be proud of, we produced a Boleyn Farewell issue, we've just done our third summer special and there was also a special Mark Noble tribute edition, so I think that in our way, the Blowing Bubbles team have helped to contribute something to the life of the club that is so much a part of all our lives," he said.
"I can't wait to see where Blowing Bubbles goes in the next decade, which will largely be dependent on how the team does – no pressure, lads! But it's also good to look back, and remember where you came from. I remember Gary Firmager, who put together the excellent and much missed Over Land and Sea, taking a look at our first issue, and saying he liked it, but we wouldn't make it to seven issues.
"When we made it to 10, I allowed myself a little smile. Now we've made it to 10 years – I think we're allowed a bigger one."