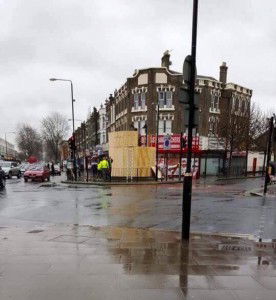 Newham council have taken the unusual step of boarding up the World Cup Sculpture on the corner of Green street ahead of Wednesday evening's London derby against Spurs.
The bronze statue featuring Bobby Moore,  Geoff Hurst, Martin Peters and  Ray Wilson has been protected with wooden boards over concerns it could be vandalised by Spurs fans visiting the Boleyn ground for the last time.
West Ham fans have taken to social media to register their disgust that the statue of national English heroes needs to be protected.
"Disgusting that we have to board the Bobby Moore statue up because of tomorrow, football shouldn't be like this"
"Can't believe the council or WestHam have boarded up the Bobby Moore statue .. It's only Spurs …."
"If spurs fans were thinking of attacking the Bobby Moore statue,they are all wrong uns,the only English man to lift the world cup"