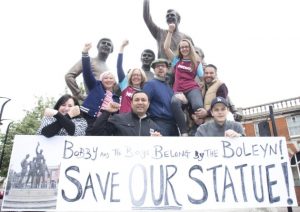 The Worldcup champions statue featuring West Ham trio Bobby Moore, Geoff Hurst and Martin Peters is unlikely to move from its present location on Barking road says Newham councillor Veronica Oakeshott.
Local residents will today bike from the statue to the London Stadium to help remember the link between East Ham and the club and local MP Stephen Timms give a speech which will re-affirm his commitment to keep the statue where it is.
When Claret and Hugh contacted Newham council press office yesterday they said there has been no update on change on any possible relocation of the statue. Councillor Oakeshott says a decision is not expected until after May 2018.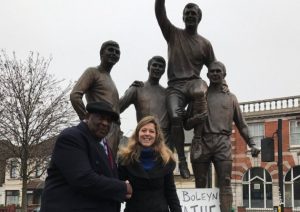 Councillor Oakeshott says public feeling locally is still very strong with the formation of an action group called Save Our Statue to protect the sculpture.
The councillor explained the statue is considered heritage publicly even though it is not listed by English Heritage yet. The fact that Newham council is going for London Borough of Culture in 2019 could also relevant as the council will need to demonstrate its respect for local heritage.
The statue originally cost £725,000 to commission with £325,000 coming from West Ham and £400,000 from a government grant.
A Claret and Hugh poll of 1345 supporters in February this year showed that seventy percent of fans would be happy to leave where it is.