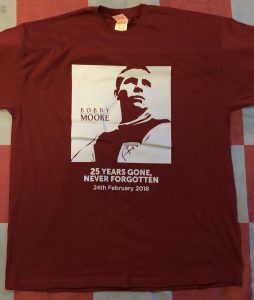 A number of the Bobby Moore 25th anniversary Teeshirts given out to fans at Anfield yesterday have already been put up for sale on eBay overnight.
One Bobby Moore teeshirt on the auction site has encouraged bids from 123 people with the highest bid currently at £40,000 here
Others are on sale for between £12 and £36 and one of the sellers seems to have multiple teeshirts for sale which can be seen here
Another supporter is selling their teeshirt to raise money for the Bobby Moore Fund. Bid currently at £21  here
The club laid out up to 3,000 free teeshirts yesterday afternoon on West Ham away fans seats at Anfield to mark the 25th Anniversary of the West Ham legend's untimely death from cancer at the age of 51 on 24th February 1993.
Maybe all those selling their teeshirts on eBay can do the decent thing by donating all proceeds to the Bobby Moore Fund.
http://www.cancerresearchuk.org/support-us/become-a-partner/our-charity-partners/bobby-moore-fund