Mark Noble's autobiography 'Boleyn Boy' has been published by Harper Collins.
It tells the story is the remarkable story of a local lad who grew up in the shadow of Upton Park tpo become  'Mr West Ham.'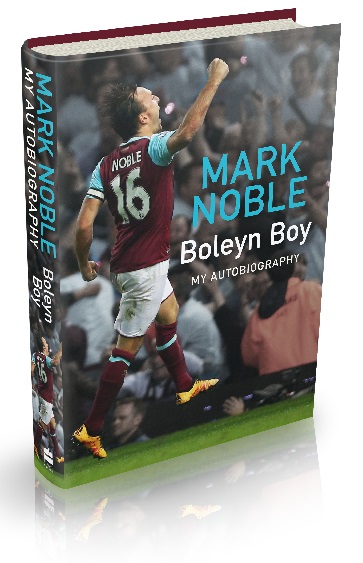 "I wanted to share the highs and lows, first-hand, of being born and bred West Ham and growing up to play for the Club I love in my autobiography, and I hope you enjoy it," said Nobes
"I had some incredible times at West Ham from the age of eleven years of age and grew up there, from Academy hopeful to first-team captain, and collected some unforgettable memories along the way.
"Through it all, my family, my wife Carly, son Lenny and daughter Honey, have supported me every day, through all the ups and downs, and I want to thank them for always being there for me."
Born and raised in Canning Town, Noble joined the Academy of Football in 2000 and made his senior-team debut aged just 17. Now, after over 20 years, with a wealth of memories and 550 appearances for his boyhood Club under his belt, he looks back at his remarkable career, reflecting on his journey from boot boy to Club captain, bossing the midfield, scoring pressure penalties and becoming an inspirational figurehead on and off the pitch.
This is the story of a brilliant footballer, a genuine ambassador and a local legend. This is the unforgettable autobiography of Mark Noble.
'Boleyn Boy' is available from West Ham United's Official Club Stores and Online Store now!
ClaretandHugh says: Legends is a very overused word. The reality is that such people come along very rarely at any football club but not many would argue that Nobes doesn't deserve to take his place among the likes of Mooro, Hursty, Sir Trev and all the other home-grown Hammers heroes. Those of us who were inside the stadium to hear Mark's final farewell speech as a player will never forget it. He may never have represented his country like the others but there has been no greater CLUB legend.  This is a book that will be read by any who call themselves a fan of this club and that it is published just ahead of him taking up a new appointment as our director of football is perfect timing. Thanks for everything you have done and will do for this club Nobes – we hope and believe the book should sell in its thousands.