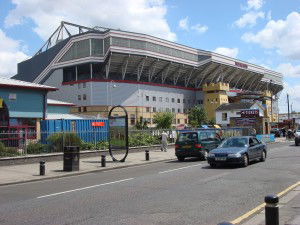 The West Ham hotel based at the Boleyn Ground will close it's doors today for the last time when guests check out at 11am this morning.  Built in 2001 with the new West Ham which was opened by the Queen, the three-star hotel has 60 rooms which doubled as corporate boxes on match days.  Originally the hotel was run directly by West Ham but they contracted out to their catering partner Elinor UK in 2012 in an overall deal worth £5m per year.
This morning at 11am also marks the start of the very final stadium tour of the Boleyn Ground.  Thousands of supporters have paid £25 each to take a stadium tour over the last twelve months.
Last week also saw the final pitch event to be staged at the Boleyn  ground. The charity match in aid Isala's smiles and the Jackson's smile foundation was played on Monday evening at 7pm and raised £6,000.
The stadium will now be stripped bare of anything and everything that can be sold before demolition starts later this year.