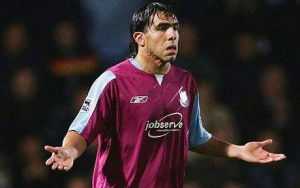 West Ham's "Boleyn Insider"really is a bit of a wag isn't he?
And we've come to the conclusion he's actually a closet ClaretandHugh follower after reading his latest column which was updated at 22.49 last night (Tues).
In a massively not so exclusive story about Carlos Tevez the ITK told us all proudly: "I can exclusively reveal that the move will not take place as the Argentine players wages would be too much for West Ham to take him back.
"I have heard the Club have a wage cap of £64m. I understand that a move for Tevez would take up a significant amount on the wage budget on players and that would affect any future signings."
Now that would all be fine except that six hours earlier (our site dashboard shows:  Published on: Jun 16, 2015 @ 15:57)  we had reported precisely the same under the headline "Tevez the truth."
We even quoted a club source as saying:" He's  on £250k a week and  our wage cap is £64m including employers NI. Of 14 per cent! If we had him we could only afford about 12 players !"
Good try 'Boleyn' but no cigar! Welcome to the tricky world of summer transfer info!