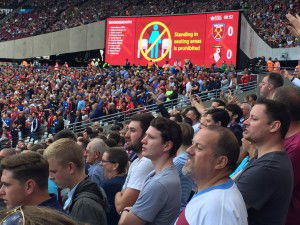 Stewarding at the London Stadium continues to be a significant challenge for French stadium operator London Stadium 185 Ltd.
The operator was appointed by stadium owners E20 Stadium LLP for the next 20 years to run and manage the stadium day to day and in turn they appointed former Office Cleaning company OCS to assist them in stewarding  for West Ham matches.
All former West Ham stewards were promised an interview but the process was described as a shambles by many former Boleyn Ground stewards.
In May, ClaretandHugh were told that 138 West Ham stewards from the Boleyn Ground are registered to carry on working at the former Olympic Stadium, 53 of whom who were already working there and had previously looked after non-football events.  In contrast a total of 330 match day stewards were previously registered to work at the Boleyn Ground so only 42% opted to move to the new stadium.
Earlier this week KUMB.com ran two articles from whistle blowing stewards who wished to remain nameless who described current stewarding as a 'nightmare'.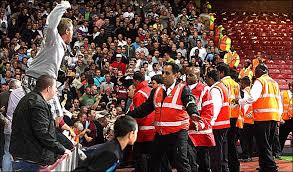 ClaretandHugh has also spoken to several former West Ham stewards who were previously known to us at the Boleyn ground.
At the Bournemouth game we spoke to one steward with over a decade of match day experience who was policing the corporate car park entrance.
Although he didn't wish to be named he claimed that former West Ham stewards were identified using different wrist bands and were often given jobs away from the pitch as they didn't want West Ham supporting stewards distracted in case they watched the game.
The steward claimed many of the 138  former West Ham stewards were giving it a try but so far many were thinking of packing up r only doing it for one season at very best.
We found another former West Ham steward in block 113 where they has been persistent standing, ho explained that often, young stewards had no experience of managing football crowds and were fighting a losing battle in keeping ontrol of the fans.
At the Bournemouth game, stewards made no attempt to get the lower block 113 to sit down and instead concentrated on relocating those who wanted to sit. When one season ticket holder joked with the chief white coated steward whether he was going to make the block sit down he just smiled and laughed 'Just enjoy the game pal'.
Youtube footage has shown another set of match day stewards at the Bournemouth Premier League game freely allowing West Ham fans to walk into the restricted away area of the concourse making a mockery of any fan segregation which is a requirement under Premier League regulations.
Perhaps the most scary incident of the Bournemouth game was a number of small fights which broke out after the match just outside the stadium on the steps leading away.
There was no control away crowds exiting and in the absence of any police on the stadium island, stewards did they best to control rival supporters after the match ended. Unfortunately a small number of fights broke out mostly related to the lack of fan segregation.
ClaretandHugh spoke to one steward  after the game who had blood on his white shirt from restraining one West Ham Supporter who was intent on causing trouble. The young steward who was a state of shock after the incident told us "I didn't sign up for this, they don't pay me enough to break up fights, that should be the job of security or the police"
If trouble broke out against Bournemouth you can only imagine the mayhem when Chelsea, Spurs or Manchester United come to visit the London Stadium.
I know standing has attracted most of the headlines in the media so far but getting the stewarding right is equally important and crucial for crowd safety at the London Stadium.