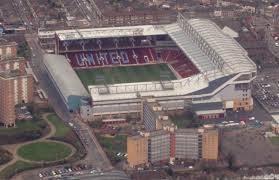 A construction firm has submitted plans for the redevelopment of West Ham's Boleyn Ground.
Boleyn Pheonix Ltd has put in a full planning application for the Boleyn Ground, which the Hammers are set to vacate at the end of the 2015/16 season after 112 years.
The firm intends to demolish the 35,000-seater stadium and build 838 new homes at the site, along with "commercial and community floorspace". The directors of Boleyn Phoenix are also directors of the Galliard group, which agreed to buy West Ham's ground last year.
The application reads: "Demolition of the West Ham United Football Ground and ancillary outbuildings to enable a comprehensive redevelopment of the site; including the erection of new buildings, rising to 3 to 13 storeys, (including a basement on part of the site), to deliver 838 new residential homes (use class C3) in a mix of unit sizes, 476 sqm (Gross Internal Area) of use class D1 floor space and 402 sqm (Gross Internal Area) of flexible use class A1 and/or A2 and/or A3 and/or A4 and/or B1 and/or D1 and/or D2 floor space, together with associated cycle parking, car parking, highways, landscaping, and infrastructure works."
Newham Council is currently running a public consultation on the plans. Local residents have until 13th February to share their views.