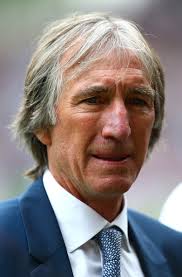 EXCLUSIVE
By Hugh Southon
West Ham legend Billy Bonds has admitted that co-chairman David Sullivan's apology to the fans for a disappointing season "is very strange."
And he found it even "odder" that he should have chosen the club's upbeat annual awards dinner to admit that at times "it made me cry."
Sullivan had guests choking on their starters when making his since well publicised comments at the Grosvenor House on Tuesday evening.
And in an exclusive interview with ClaretandHugh 'Bonzo' said: "It's a funny thing to say at any time never mind at an evening like that.
"You would have to say that if you were the manager you'd have to be a bit worried. You would hardly expect something like that to be said publicly.
"Yes, I think it's strange and quite worrying from the manager's point of view. It's not the most positive thing to hear is it?"
Bonds added that he was delighted the Hammers had retained their Premier League status and said: "Sam Allardyce has done what he was brought in to do – get promotion and keep them up.
"But to be honest the football is often dull to watch and the fans have the right to react as they please.
"They are paying huge amounts of money for the privilege of watching and they made their feelings known in my day so they have  as much right to do so now don't they."
Follow on twitter @hughsouthon