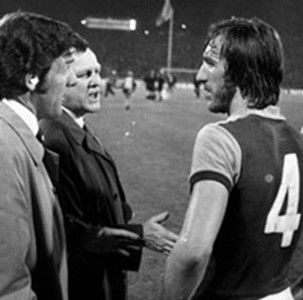 West Ham superhero Billy Bonds has spoken exclusively to ClaretandHugh about the Irons season and how he feels about the brand of football being played under Sam Allardyce.
He spoke yesterday (Wed) of his surprise at co-owner and chief shareholder David Sullivan's comments on the season when he apologised to the fans at Tuesday evening's annual awards dinner.
In this article however, Bill records his own views and appears to share many of the co-chairman's reservations about  what has been on offer at the Boleyn this year.
He recalls too his years under legendary boss Ron Greenwood  and John Lyall (shown above) and how neither would compromise on their drive for entertaining football.
Exclusive by Hugh Southon
Billy Bonds never believed West Ham United would be relegated this season but he's honest enough to agree that the football on offer at times is certainly not to his taste.
Bonzo – who was the first recipient of the club's Lifetime Achievement Award at last season's awards ceremony –  was surprised by the co-chairman David Sullivan's comments from the stage this year when he expressed his disappointment at what had been on offer at times.
However, that wasn't intended as a criticism and he admits that at times the football "hasn't been what I would want to see."
He explained: "Sam has done what he was asked to do, get the team promoted and keep them in the division but that the football is not pretty to watch.
"If I'm honest I would have to say that it's really not the kind of football that attracts me. It's hard going. It really isn't great at times."
Bill believes that the manager did himself a disservice when he arrived at the club claiming that 'the West Ham Way' seemed to be a losing way.
He said: "He certainly didn't help himself in the eyes of the fans and he upset a lot of people. It was disrespectful."
Bonzo believes Allardyce has paid a heavy price as a result with sections of the fans and he has sympathy with those who have made their feelings known from the terraces.
He said: "They pay huge amounts of money for their football these days and they can make their feelings known in any way they want. I would never criticise the fans. It's their team, their club and their game.
"They have the right to react exactly as they see fit. They should not be criticised for that."
Bill also made it clear there had always been a "West Ham Way" and he should know having served in teams under legendary managers Ron Greenwood and John Lyall.
He said: "With Ron it was always about how we were going to win the game by attacking. His philosophy was born of the  great Hungarians who played a pioneering early push and run game.
"He wanted you to get the ball down and pass it – neither Ron or John, later on, would ever compromise on those principles.
"We had our  bad days of course and I can recall being booed off just as the team has been this season.
"But they weren't for the same reasons – it was always about going forward and trying to play. Ron would never sacrifice his principles in that respect.
"When I was playing at the back I was encouraged to get forward and when I went into midfield I was never told do do a holding job.
"In fact during one season I scored 13 times and was the team's highest scorer. It was always about getting forward and playing progressive attacking football.
"John locked it down a little more when he took over but by and large things remained much the same. It's how I grew up in the game and it's what I like to watch.
"For me it should be about attacking teams. I understand it's terribly important to stay in the Premier League and Sam Allardyce has done that. But we can all take a view on how it's been achieved."