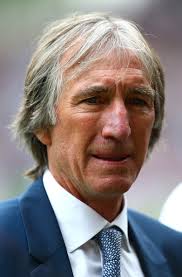 Hammers hero Bill Bonds doesn't believe "the state of the season" dictates how players approach games and added: "I always took my A game out – there was no B or C."
Stewart Downing and Aaron Cresswell have both declared that they will be as fired up for the rest of the season as they have been throughout the campaign.
And Bonzo – speaking exclusively to ClaretandHugh said: "That's precisely how it must be because whatever the state of the season the fans expect you to go out, give the lot and win."
Reviewing the season so far Billy said: "I think it all went wrong in the FA Cup against West Brom. Hopes were so high and it was a bad defeat.
"To lose 4-0 after that night against Everton in the Upton Park replay was so disappointing but in reality it hasn't been a bad season.
"We remain in the top ten but obviously after such a great start when hopes were so high it feels as if it's all gone wrong. In fact it's been quite a successful campaign."
Bonzo is entirely ambivalent about the apparent uncertainty surrounding the manager saying: "Oh the whole managerial thing is just a merry-go-round! What will be will be.
"People are saying the board should have made it's mind up by now but it's their club, their money and they will do what they want. I don't have a problem with that.
"And to be perfectly honest I really can't believe there hasn't been a dialogue between them by now. They aren't gonna tell the fans absolutely everything are they? There's no reason why they should.
"Whatever happens Sam won't be short of offers if he doesn't get one from West Ham and we have to leave it with owners. End of.
"We need to end the season giving everything and gaining as many points as possible. After that the big decisions will be on the table. A little patience is now required."