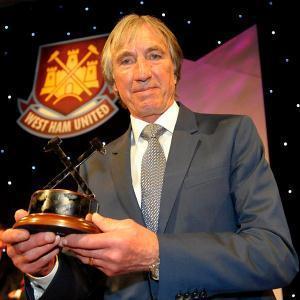 Bill Bonds has told the fans the Hammers have "more than enough to stay in the Premier League " and as  the crucial match against Swansea looms said: "I have never believed we will go down and nothing has changed my mind."
He added: "The new signings haven't come off or added much to the squad but we are more than good enough to stay up."
Bonzo was speaking exclusively to ClaretandHugh as we revealed to the great man that he and Mooro were the two club icons on our flag which will be seen during the Swansea game for the first time.
He was thrilled to bits and his reaction can be found here https://www.claretandhugh.info/bonzo-entirely-humbledas-candh-flag-arrives-at-stadium/
He said: "Saturday is – as everybody has said is huge but I think we will win that and go on to pick up more points this season.
"The fans  have always been great to me and I hope and believe the next few days they will get behind the team like never before on Saturday and over the next few games."
He emphasised that there should be an end to the blame game and looking for scapegoats saying: "None of that has ever done any good and never will.
"If there is one person to blame it's Dimitri Payet. He was obviously going around whispering about this that and the other.
"It's awful and something I had to deal with when I was manager. It causes huge unrest and can ripple on for a while after the bad apple has been rooted out.
"The manager has had a lot to deal with so don't blame him or the board who have dug as deep as they can to back him. It just hasn't happened for us this year.
"But I am convinced we will stay up and we can go again in the summer and get it right, really improve the squad and move on. This was always going to be a tough season but Payet made it worse than it ever needed to be."