Living legend Billy Bonds has received the news that the Boleyn has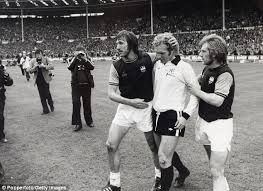 finally been sold with a message to the West Ham faithful: "Let's all kick on together!"
And the Upton Park hero -probably second only to 'Mooro' in the affections of most – declared: "This is a big moment in the club's history.
"We are moving into a great new stadium and although I know some older fans are upset and hurting I think this is a time to look forward and get on with it.
"The younger ones will be relishing it and so they should – it's a massive landmark in the club's history.
"I had the greatest days of my life at the Boleyn – all my great memories are there – I had wonderful days there but we all have to move on.
"Many of the grounds I played on – Manchester City and  Arsenal etc are not there anymore. it's called progress. We have to move on now and trust the people in charge with our future"
Bill is pleased that permanent reminders to the Boleyn past will be built into the new development under the agreement with property firm Galliard.
He said: "We should always honour the past – we must never forget it and I understand there will be a centrepiece called the Bobby Moore Gardens plus a stauue.
"That's nice but for me personally I don't need a statue to remember Bob. I was fortunate to know him as a friend and player at a very young age and those memories will be in my mind forever.
"All those memories are upstairs in my head and that is good enough for me."