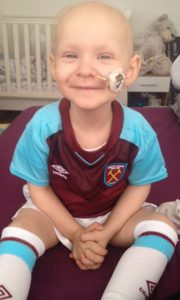 West Ham Legend Billy Bonds tonight sent his heartfelt best wishes to little Isla Caton, the cancer-stricken three-year-old who is at the centre of fundraising activities across the Irons community.
ClaretandHugh are so grateful to Bill for donating nine items of his personal memorabilia to be auctioned on the site and are delighted that as a result a total of £1,905 has been added to the fund. Extra donations from Claret and Hugh readers have pushed to total to £2,095 so far.
The monies will all go towards sending the little one to the United States where there is hope that new treatment can cure her.
Bill donated nine items to the fund with a personally signed replica Bonds shirt raising  £540 with photos and personally signed drawings of the great man adding around £1400 to the fund.
Isla has been struck by a rare form of cancer and the fund has reached £201,000 short of a new £400,000 target as the fundraising efforts continue.
Bill was, as usual, his humble self-saying: "I was honoured to help the little one and pray to God it all works out for her. It's a tragedy but the Hammers supporters are such a great bunch and will carry on until the job is done."
Our massive thanks to Laurence Porter, Cardiff Irons, Quentin Gillett, John Epton and Dave Crisp for their generous winning bids plus another bidder who asked to remain anonymous.  Six of the items will remain the U.K with one item flying to California, one to New Zealand and one to Australia.
Also thanks to William Smith, Gary Knight, Dickie Light, Philip Simons, Steven Livings and three anonymous donors who contributed the extra £215.
If you want to help little Isla please make your contribution to help us increase our grand by chucking in a few quid each at https://www.justgiving.com/fundraising/billybondsauction