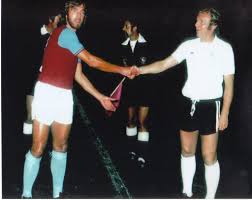 It was 56 years ago today that a 17 year old Bobby Moore played his first game for West Ham United – against Manchester United and we won 3-2.
Today – all these years on we have a new book arriving on the High Street – Bobby Moore – the man in full! The Moore legend will never die
Bill Bonds – arguably second only to Bob in terms of legendary Hammers status – remembers Mooro from those days way back even though he was five years his junior.
Speaking exclusively to ClaretandHugh Bonzo said:: "I remember Bobby at just 17 and as an England youth international came to my local club to hand medals out to us.
"Even then he had all the class in the world and on his arm was this lovely blonde, Tina – who became his first wife.
"I would have been about 12 or 13 at the time and of course a few years later – after Charlton – I joined him at West Ham.
"And you want to know the truth? I was star struck by him – I was in total awe of the man and that never went away over all the years I played with him.
"Bobby was all class. I never heard him shout, I never heard him swear and in the dressing room he was as calm as they come.
"On the pitch I've seen better headers of the ball and faster players – he'd be the first to admit he wasn't the quickest.
But there was no better passer or interceptor of the ball. His timing was always immaculate."
Bill remembers the 'class' even stretched to Bob's boozing and he admitted: "Mooro loved a bevvy – make no mistake about that – but he's stand there with his little 'pinky' coming up, drinking with great style.
"Frank Lampard snr roomed with Bob and he will tell you that the man was fastidiously tidy. Everything in it's place. Bobby really was something else."
Bonzo refuses to compare the great man with other players of his era saying simply: "He was as good as anyone around at the time and better than the vast majority of them.
"He has earned his legendary status – a man who is the only one ever to captain us to a World Cup victory. It gets no greater.
"But listen above everything he was a gentleman, a down to earth London boy who had time for absolutely everybody.
He was my hero then and he remains my hero to this day."