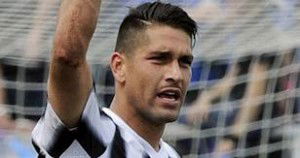 Marco Borriello has lived more than most in his 31 years and is clearly an interview subject to die for!
His footballing exploits are well known but behind the ready smile is a sadness he has had to live with for 21 years – the death of his father…murdered by the mafia.
And perhaps surprisingly this highly interesting guy  is ready to discuss the subject  declaring: "He had loaned money to Pasquale Centore, the former mayor of a town in Casertano.
"He was linked to the Casalesi clan. He didn't want to pay my father back and, during a fit of rage, he murdered him."
The young Marco was 10 at the time and he says: "My mother was instrumental in the way I grew up.
"The neighbourhood of Napoli I grew up in, San Giovanni a Teduccio, has the highest concentration of gangs anywhere in the city.
"It wasn't exactly like growing up in a jungle – but it wasn't Disneyland either! A child growing up there grows up quickly: a year there is like 10 years anywhere else.
"Football helped me replace the loss of my father, but I would have liked my father to have witnessed what I've achieved."
An interesting man indeed our Marco who in an interview with La Gazetta Dello Sport  last year was quite happy to cover a host of issues away from the game.
He revealed that his present contract ties him to Roma until 2017 and pointed out: " I'm described as 'just the striker' who is only good in the air… even if, of the 70-odd goals I've scored in Serie A, 90 per cent of them have been scored with my feet. I can score goals any way. "
That sounds exactly what West Ham need at this moment so expect fireworks if he appears from the start or off the bench at Villa on Saturday.
Thankfully the striker talks about virtually everything under the sun unlike the majority of British players who start most sentences with those immortal words: "We set our stall out!"
He was even happy to reveal that he lost his virginity at around 16 or 17 and that he remembers who with "more or less."
He also happy to discuss the 'homophobia ' issue in football whilst clearly being hetrosexual himself.
Questioned on t the football world is ready for players to come out as homosexual he said: "It wouldn't be a problem for footballers.
"I've got friends who are homosexual. But I'm not sure how the football fans would react."
I think we can expect some pretty outspoken stuff from teh Italian striker further down the line as this is not a man to mince his words.