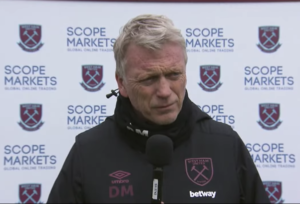 David Moyes' comments – or should it be uncommitted comments  on the transfer window – sound like another piece of secretive stuff we have come to expect.
The man gives absolutely nothing away on such matters as these, team selections or player injuries – it's his modus operandi or 'what he does.'
Nothing wrong with that in itself but to start talking when there really is nothing to say seems odd and a tad pointless.
He chose to declare this morning that he wanted competition, that there was a long way to go in the transfer window but that he could guarantee nothing.
It all sounds very familiar but if he really intends sticking with what he's got – especially up front  – there really is cause to worry.
We can only hope and pray it's just the usual unnecessary manager talk at this time of the year when the best advice to give is : "Speak less – say more."
Here's what he actually said:
"I want further competition and I hope we do by the end of the transfer window"
"We want competition and I am always looking at what there is, I hope by the end of the window we might have more additions but you can't guarantee anything"
That amounts to absolutely nothing – and no I'm not slinging him under the bus because maybe he hasn't fot the dough he needs.
It's just that I don't understand given the content – or entire lack of it – why he needed to speak at all.
Always best to speak when there's something to say and avoid the sort of unrest this could cause!