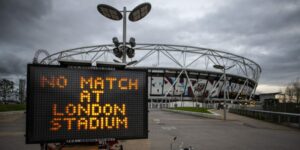 The proposal to play the remaining Premier League fixtures on neutral grounds continues to dominate football's agenda.
Under the Premier League's constitution, 14 of the 20 member teams must approve any plan.
And the talking is continuing with heavy pressure being brought in the threatened clubs by the top outfits the vote – if it comes to that – will be desperately close.
There have already been hours and hours of Premier League conference calls, but insiders claim these are largely going around in circles as divisions form on what is best for each individual club.
Norwich City, Aston Villa, Watford, Bournemouth, Brighton and  West Ham all face the risk of relegation to the Championship while Newcastle and Southampton are not completely safe either and could be sucked back into a relegation dog fight.
Those most at risk have led a challenge about whether the integrity of the competition would be undermined if it was not completed in conditions similar to the three-quarters of the season already played.
Those games, before football was suspended, took place at packed stadiums, which are unlikely to be seen again until next year. The bottom six clubs believe the risk of relegation should be removed this season.
The Premier league's struggle to reach a consensus highlights the absence of its longtime executive chairman Richard Scudamore, a towering figure known, until his retirement in 2018, for his ability to force through changes in a league often beset by divisions.
His replacement, Richard Masters, a longtime league employee, confirmed in the role only a few months ago, has yet to stamp his own authority on the divided club chairmen.
The failure to reach a consensus has stoked fear among some to believe that time to complete the season will evaporate before there is an agreement believing some clubs are playing for time. Officials believe the current season needs to be completed by 2nd August at the latest to meet UEFA deadlines.
On Monday night Paul Barber, the chief executive of Brighton & Hove Albion acknowledged his club's attitude in the talks was born out of "self-interest."
Brighton opposes a proposal to play the remainder of the season at neutral venues, to avoid clusters of fans gathering outside stadiums.
"Neutral venues just simply changes the nature of the competition and what we would consider to be unfair and not the right way to go," Barber told BBC Radio. "My job is to represent Brighton & Hove Albion, and our interests are staying in the Premier League."