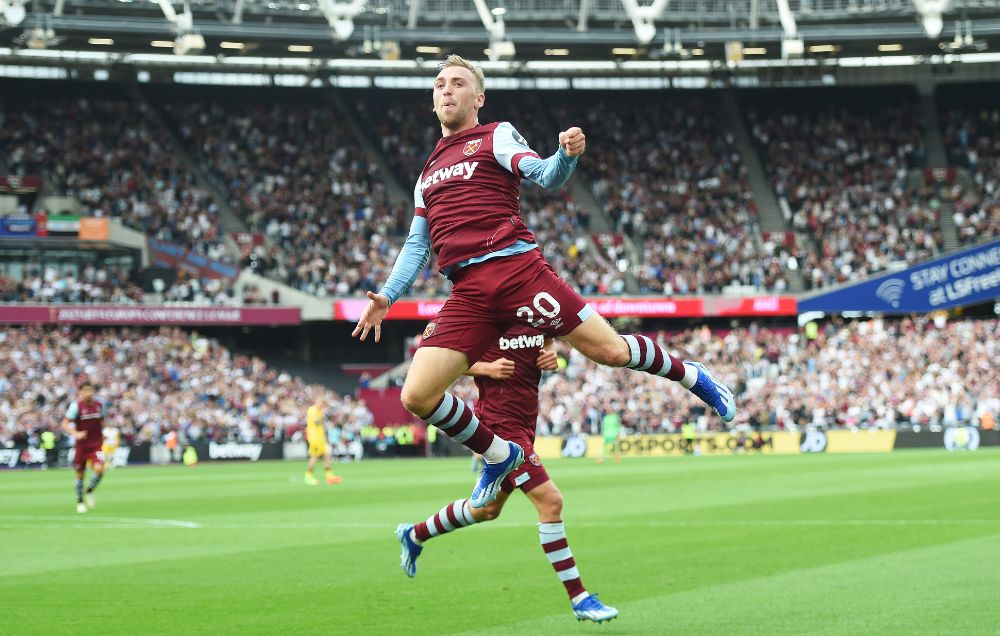 Jarrod Bowen is on fire scoring another fine goal today as his net net finding spree shows no sign of ending.
Five goals already this season and few better than the one he passed into the net following a fine passing move and cross from Vladi Coufal.
I had taken a time to break the Blades down but few would have not bet on Jarrrod being the man to do it and so he did in real style as usual.
He was beaming after his latest goal and with the way things are going could easily find himself away with the Three Lions during next month's international break.
The goal today was his first at the London Stadium after his way efforts at  AFC Bournemouth, Brighton & Hove Albion, Luton Town and Liverpool – matching a Club record set by Vic Watson over 90 years ago!
And afterwards he discussed the goal and the game saying: "It was a nice goal and a nice bit of build-up!
"I think we had an idea we might have a bit of the ball, but it was about not keeping the ball for the sake of it, as there had to be a purpose at the end of it, and when it was time to turn it on it was intricate one-touch and a really good goal from everyone involved."
 "We've got two more games before the international break, both at home, and we want maximum points from both, so today was a great start for that.
"It was massive to get back to winning ways. Today was about winning the game and doing a professional job and if we want to be competing in the top six at the top end of the table, which is the aspiration for this Club, then we have to win this game.
"It's onto our European game on Thursday, then Newcastle next Sunday when it's another opportunity to get points on the board going into the internationals.
"Maybe we could have scored a third goal to really put the game to bed, but we had to defend and we did that and came away with two goals and a clean sheet.
"It was always going to be a difficult game. I think some people thought it might be a bit of a cruise, but when you lose like they did last week there was always going to be a reaction from them and this is the Premier League so nothing is easy.
"It was about us getting that first goal, which we did, then we got the second and that was all we needed to get the win and the three points and I don't think anyone is going to complain about that."