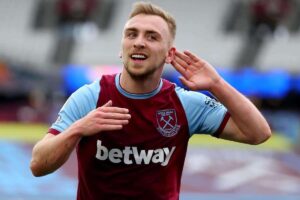 Jarrod Bowen us back at Rush Green but there remain doubts about when he is set to re-appear in the first team squad.
Jack Rosser of the London Evening Standard has now confirmed that the No 20 is now back in training  but sadly not with the full group.
So it seems that should he be appearing any time soon it is far more likely – as we suggested in an earlier piece –  that it will be against Lyon next Thursday evening at the London Stadium.
CandH were told yesterday that he was making a slow recovery and as a result there could only be speculation about when he will  return at this stage.
Rosser also reveals that manager David Moyes must be careful with Bowen's return so not to risk further injury, especially given the fact that the latter has what coaches have described as a "lax ankle", meaning he is somewhat more susceptible to injury in that area than other players.
The 25-year-old is often given sugar injections to strengthen his ankle before games.