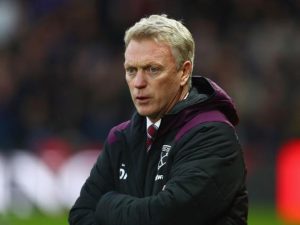 Jarrod Bowen's absence from the Hammers team last night became far more irritating after the game than before it.
He arrived very late in the piece yet despite having only 10 minutes to show what he's about, showed that was more than enough.
There was a moment when he escaped the attention of two or three City defenders and was regularly looking to move into space.
Make no mistake, this is a player of enormous promise and the manager's idea that you pay £22 million for a player and then use him sparingly in a game which nobody expects much from is extraordinarily difficult to understand.
If you are keeping an eye on end of season goal difference Bowen for Snodgrass is hardly likely to make a massive difference.
Moyes had explained before the game how impressed he had been with the former Hull player in training but added that in his experience players arriving from the Championship needed time to adjust.
We don't have that time and given the player's price, and that he was the manager's choice to play a part in saving our season, I just can't fathom why he wasn't given an immediate opportunity.
Moyes' decision to ignore the growing potential of Pablo Fornals is also unfathomable  why include Anderson if you have no intention of using him.
There's still far more questions than answers to the Moyes management style!