By Hughie Southon
West Ham's Jarrod Bowen doesn't fear a relegation struggle because he's been there, done iy and has the T shirt!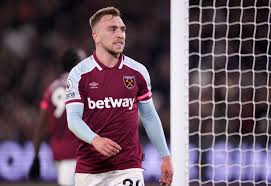 The former Hull City striker is hitting some of his best form of the season so far as the club hneads into its final 12 games of the season.
And although there are some pretty tough games to be played it's all about adopting the right mentality and Jarrod did exactly that when he started out at Hereford when he  was just 17.
It may have been a while ago and at a different level of the game altogether but relegation is relegation in any scenario and knowing how to cope is a key essential with Bowen believing he has it,
It doesn't bode well for David Moyes and his squad, but at least Jarrod Bowen isn't afraid to put his head above the parapet and deal with the situation head on.
"It was only eight games, but the situation Hereford were in at the end, a relegation battle, for me at the age of 17, it stood me in good stead because I had that non-league changing-room feel, what it means to win games and what's at stake," he told the Premier League's official website.
Anything that happens now you are ready to deal with it."