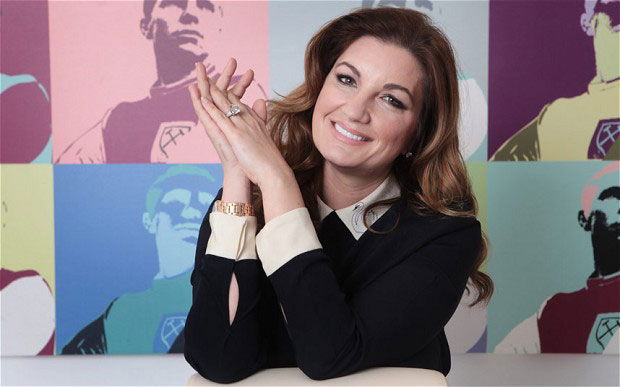 West Ham Vice-Chairman Karren Brady is back writing in her weekend Sun column crusading for the return of supporters to football stadia.
This week's musing focus that supporters are missing out on all the goals and that the logic of keeping fans away while cinemas are open is flawed.
Brady tells Sun readers:  "Fans are missing a bonanza and while all of us are aware of the reasoning behind the Government's position, the logic behind our locked turnstiles is distinctly wonky. If cinemas are allowed to socially distance audiences, why not football or, for that matter, rugby clubs?
"It would be perfectly possible, as an example, to separate people in a portion of one spectator to four seats. At the London Stadium, this would limit the attendance to about 15,000.
"Any range of further measures are available — plastic partitions, masks, temperature tests, sanitisers, stewarded queues, alcohol bans — and when these are proven to work, plans for an increase in the maximum examined by the authorities.
"At smaller grounds, it should be possible to set the bar lower,  perhaps at 1-3 or 1-2.
"If the Government allowed the same percentage capacity as they have granted the 02 and the Royal Albert Hall there would be no need for a bailout of League One and Two as this amount of gate revenue would be enough to save them. And for those demanding the PL bail them out… we already do!
"Not a lot of people realise the PL already give £110m a year to the EFL, which means every Championship club gets £4.5m,  League One club £700k and  League Two club almost £500k.
 "And not to forget the £190m PL clubs spent on buying players from the EFL so far in this window.
"Also, is there any logic in allowing indoor venues to have crowds but football stadiums not to? If there is, no one has explained it to me or to anyone else in football.
"Which is why the PL, WSL and the EFL wrote an open letter to the Government to urge them to allow us to return fans safely to stadiums.
"Boris says we must save the economy. Well, here we are — willing and able to help with the greatest save he'll ever make."
Claret and Hugh say:
The Vice Chairman's interest is the lost revenue that West Ham are suffering rather our supporters missing out goals in person.
Premier League clubs are losing £80m per month in ticket revenue although some of that might be replaced by the controversial pay per view scheme.
West Ham have been piloting special sanitisation tunnels at their Academy and it is technology like this that the Baroness hopes will see up to 15,000 returning to the London Stadium if pressure is applied to the government.  It is difficult for the Premier League to plead poverty while spending over one billion in transfer fees collectively and that is where the argument falls down.