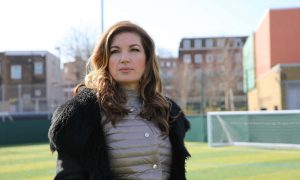 West Ham Vice-Chairman Karren Brady has come under criticism from journalists, rival fans, as well as West Ham supporters for her latest Sun column, published earlier today.
The Baroness said 'Sorry Liverpool but Premier League must be declared null and void if players can't play again'
This has unsurprisingly has upset many Liverpool, Leeds, West Brom and even Manchester City fans who have suggested that her comments are fueled by self-interest for her club which seperated from the relegation zone by goal difference.
The Liverpool Echo's Chief football writer Ian Doyle wrote "Karren Brady is being criticised but I think she's right – the Premier League season must be declared void. For West Ham. Expunge their results and stick them in League One where there's a free space for next season. A solution that makes everyone happy. Well played Karren"
The Guardian's Jonathan Lieu added "I think I'd have a lot more regard for West Ham's sinister Machiavellian scheming if they weren't so brazenly shit at it"
Jacob Steinberg also with the Guardian said "Yet another example of Brady being needlessly provocative in that wretched column,
Sun Columnist Justin Allen said "With respect, absolute nonsense from Karren Brady. They can easily finish the season behind closed doors. If that means teams playing three games a week then so be it."
Arsenal fan Piers Morgan came to the Baroness defence by saying "
Why is K
arren Brady
getting slaughtered for saying this? There's no chance of this season being completed so the ONLY fair thing to do under such completely unprecedented circumstances is to cancel it & start again in August."
Claret and Hugh understand that Brady's comments are her private opinion and don't necessarily reflect those of the West Ham United board. The Hammers could be set to lose millions in lost TV money if the season was declared null and void.