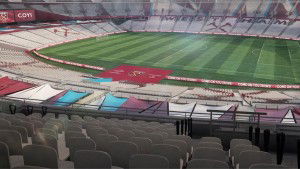 West Ham Vice Chairman Baroness Brady has acknowledged delays in the former Olympic Stadium wrap by confirming ClaretandHugh's story last week that the giant Stadium TV screen part of the wrap will be delayed until October.
Brady told WHUFC.com "Construction projects of this magnitude are notorious for their delays, but we are on schedule, to the very day, to open in full football mode, for the Premier League curtain raiser against Bournemouth. That's of enormous credit to everyone on the construction side, not least with the added complexity of Europa League football."
 
 "As we explained after the draw on Friday, we'll be operating at a maximum capacity of 54,000 for the Europa League game. This is all part of the ramp up to the Stadium opening at its full 60,000 capacity for the Premier League opener, but I think we all agree an earlier start to the season due to European football is a position we're happy to be in."
"Yes, the Stadium has been delivered on time, but there are of course still many elements and finishing touches that are scheduled to be fully in place early in the season. Of course (just like a new house) there will be elements we need to assess and get right once we're in and we'll always be striving to improve and add things, just as you would expect of any world-class venue. "
 
For one thing, once the complete seating solution is in place, work will begin on the bold West Ham branding to sit at the back of the lower tiers.
"Likewise, the world-class Stadium wrap, boasting Europe's largest digital screen will be fully operational for the Hammers' meeting with Sunderland in October. "
"As you may have seen in my last video update, the Stadium will of course be fully connected in the fullness of time. The WIFI is being installed in stages, over a number of months, and should be finished later this year."  
Brady later clarified on personal twitter "To clarify West Ham's world-class wrap WILL be in place by first Premier league game v Bournemouth. Due to delays with planning permission Europe's largest digital screens will be in place for home game v Sunderland. 88% of wrap is static in West Ham United colours/logos & will be in place for 1st Premier League game- 12% is digital fully in by Sunderland"