Karren Brady could be set to leave West Ham.
Sunday People journalist Neil Moxley has reported that the Baroness could be set to return to Birmingham City.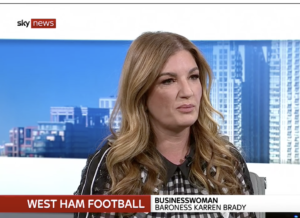 Laurence Bassini is currently attempting to complete a takeover of the Championship club and he took to national radio on Wednesday to reveal when his board of directors will be announced.
Per West Ham Zone, he suggested that current Hammers vice-chairman Brady will be moving back to Birmingham, with whom she began her work in 1993, at the age of just 23.
Bassini said: "There is going to be two chairmen that are senior football people
"I'm not saying who I'm bringing in. I will name the board at a press conference and they will all be there."
Moxley subsequently took to Twitter to claim that the implication is Brady will be moving to Birmingham as part of their new ownership structure.
One fan asked if a "certain Baroness" would be moving back to St Andrew's and he replied: "Sounds very much like it, doesn't it? Vastly-experienced female with connections to DS? Points in one direction, doesn't it?"
Birmingham finished 20th in the Championship last season and will be aiming to climb the table in 2022/23. It remains to be seen if Brady is a part of that.