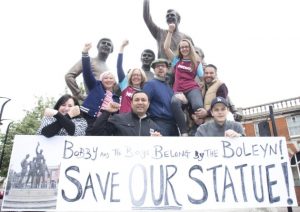 West Ham Vice Chairman Karren Bardy has dashed the hopes East Ham businesses and locals who hoped to keep the Champions statue featuring Bobby Moore, Geoff Hurst and Martin Peters at the junction of Barking Road and Green Street.
A new campaign to keep the statue in East Ham has seen posters displayed in local businesses and a recent Claret and Hugh poll revealed that over 83%  of 1,036 West Ham supporters taking part want it to stay where it is.
When asked the question by West Ham Group United yesterday Brady claimed that commissioning a new statue at the London would be incredibly expensive and said the junction where it is currently located is being redesigned by Newham council so the statue will need to move somewhere anyhow.
The 16ft four-tonne bronze sculpture cost £725,000 to create in 2003 with £400,000 coming from a government grant and the remainder mainly funded by West Ham. The statue was the idea of Newham councillor Graeme Cambage and was designed by Philip Jackson.