W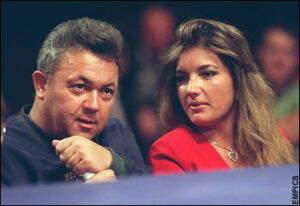 est Ham Vice-Chairman Karren Brady should pack her bags at the club according to a Claret and Hugh poll of almost 1,400 readers.
Over 79% of those voting believe the time is right for her to be paid off and leave the club completely as a clean break allowing a new CEO to be bought in.
A further 10.5% of readers said the Baroness should remain in her current role heading up non-football activities for the club while the remaining 10.5% believe she should be moved sideways in a non-executive role with the same Vice-Chairman title on the board as an advisor allowing a new Chief Executive to come in to run the non-footballing side day to day.
With no realistic possibility of a potential buyer for the club in its current position, the chance of a change of owners appears to be remote short term so a change of leadership at the top of the club might be the next closest thing.
Karren Brady and David Sullivan have worked together since 1989 when he recruited her to work at his paper the Sunday Sport at the tender young age of 20, by the age of 23 she was appointed as the managing director of  Birmingham City so there is a 31-year history together.
David Sullivan is known to value loyalty so it would remain to be seen if he would replace Baroness from her executive role at the club to break up a thirty-year business partnership.
Full Poll results: 1395 votes
Pay her off and remove hr from thee club completely 1,104 (79.14%)
Keep her in her current role running the non-footballing side of the club 146 (10.47%)
Make her Vice Chairman role non Executive bringing ina new CEO 145 (10.39%)