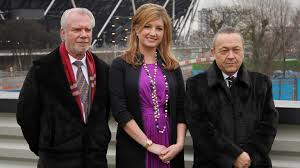 Karren Brady has shifted her perceived position on the future of Sam Allardyce and admitted he has found fan discontent hard to handle.
Many believed the vice chairman had indicated the 60 year old would still be in place next season during a Sky Sports interview yesterday (Tues).
But speaking on the Alan BrazilkSports Breakfast show at TalksPORT she said: "Sam Allardyce is a good manager. He will always have our respect and whatever happens with West Ham, his future is bright.
"He's a good manager, but he has to make sure he's happy at West Ham. We have to sit down and calculate what we do privately, and respectfully, with him.
"We have the same plan this year as we've had every other time his contract has run out. We'll sit down at the end of the season, discuss the season that's gone past and decide how to go forward.
"Everything comes into the decision, not least of all how fans are feeling. There have been times when the supporters have been on his back and he has found that time very difficult to deal with."