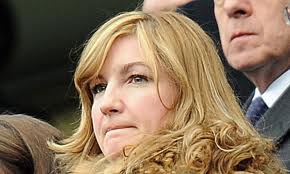 Karren Brady has waited a week to lambast Sky Sports presenter David Jones claiming he misquoted her when criticising West Ham's form this season.
The vice-chairwoman was upset after Jones told Sam Allardyce in a television interview following West Ham's 1-0 win over Sunderland last week that she had accused the team of "under-performing".
Allardyce responded to Jones' question by saying "She's wrong. We haven't been under-performing, we've been under-results- getting".
But after being told that Brady had in fact said the Irons were under-achieving he redirected his fury at Jones, saying that "When I see him next, and I will see him privately, he'd better watch out."
Brady – in her weekly column in The Sun – weighed in  accusing Jones of lacking professionalism.
She wrote: "Jones scored an own goal, so he should learn to read up on a subject properly before he comments publicly.
"As a non-executive director of Oxford United, he should know better – I suggest reading the small print should be a priority."
There really are people inside our club who need to learn that some things are best left!
BIG SIGH