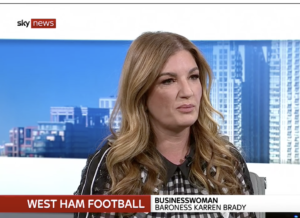 West Ham Vice-Chairman Karren Brady was asked by Sky News why West Ham were underperforming despite being ranked 18th in the Deloitte World's richest clubs for 2020.
Brady told Sky News's Ian King that that is a question that haunts the West Ham board almost every day.
She said that the board had invested over £200m in the team and bought in a winning manager at a very expensive cost but things had not worked out.
Brady said that is part and parcel of a running a business, having that resilience to work out what has gone wrong and have the skills in place to put it right. She added that having the money and being in the money league was one thing but delivering expectations, hopes and dreams of supporters is very different.
Asked whether the move to the former Olympic stadium was a mistake Brady said  'Absolutely not, one of the reasons we are in that league is the opportunities the Olympic Stadium has bought to us, we have capacity of 60,000, we have put in a planning application to go 62,500, we have 54,000 season ticket holders, 50,000 people on a waiting list to buy a season ticket, 35,000 families and we have the cheapest season ticket in the Premier League. £99 for a child to come to Premier League football all season  so no we don't think it was a mistake!'