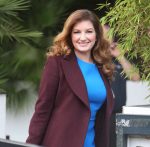 Karren Brady wouldn't mind seeing Spurs win the Title but only after the Hammers have beaten them.
The vice chairman has taken to her Sun column to declare: "Yes, I have had my ups and downs with them, some would say downs and downs, but I've ditched my distaste along with with the rubbish in my dustbin."
"Whatever  else I think about Spurs, I'd be the last to deny that they have a fine team and are an excellently-run club.
She said she is jealous of the current Spurs team adding: Not only for their consistently watchable style of play but for "unearthing several of the country's most accomplished young players, Kane, Diet, Dele Alli and Danny Rose."
And he said the 1-0 win over them at the London Stadium created a warm brief reaction rather than any long-term glow.
Winners of the Double, they have always been slightly aristocratic whilst Hammers people like to think of themselves as working-class, occasionally even working-class heroes as in the era of Bobby Moore, Geoff Hurst and Martin Peters.
She added: Whereas receipts were constantly on Arene Wenger's mind when Arsenal were building their new stadium, Spurs chairman Levy says rebuilding White Hart Lane for £800m will not affect Pochettino's spending.
She said: Bidding for the rights to the then-Olympic Stadium caused some bitterness between our respective boardrooms but "we have never been anything but welcome at Spurs as they are in our elegant new home today."
She added: "In many ways, the cock should be crowing for Spurs. Newly resplendent in a year's time, White Hart Lane will ring in their name, as always.
What more could a true supporter want? Well, a first Premier League title would do.
I'd rather like to see them upset the foreign spendthrifts and do it, minus three points today, of course."