By Sean Whetstone
Karren Brady has often used her Football Diary in The Sun to back or praise 'her manager' as she often calls Sam Allardyce.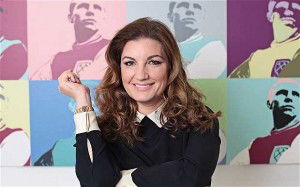 I thought it was very revealing he hardly got a mention in today's diary.
The only mention was a low key quote under Monday saying "There are loud claims that our style is predictable but Sam Allardyce's tactics have provided him with a record 14 clean sheets"
Hardly a ringing endorsement or a vote of confidence for Sam from Brady is it? Sometimes what is not said is just as powerful as what is said. She had scope to dispel the rumours if she really wanted to.
It is this, coupled with the heartfelt speech from David Sullivan, at the players awards last Tuesday that has convinced me Sam remaining days as manager can be counted on a one hand.
I fully expect next Saturday's football diary from Ms Brady to say Monday 'Sacked my manager today, we need  a new manager with new ideas to take my club forward'  Maybe she has written that entry already.