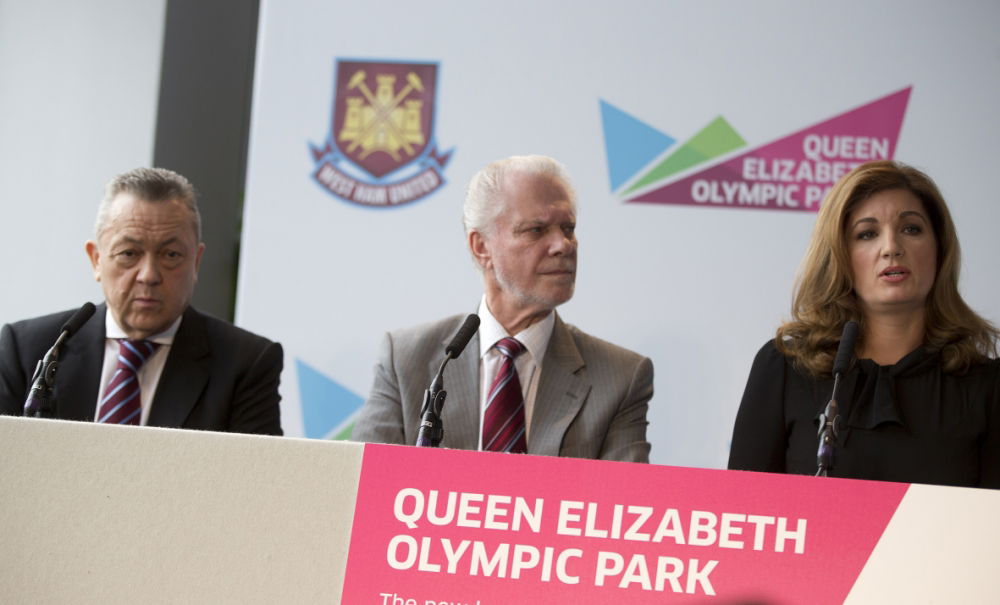 By Hughie Southon
Karren Brady has paid a beautiful tribute to her dear friend the late David Gold declaring " life will will "never be the same for David Sullivan and I, nor quite so enjoyable."
And she adds that it's important to hold onto the happy memories which give you strength as you come to terms with the fact that someone so important to you won't be in your life anymore.
Writing in her Sun column she said:"David was a kind and thoughtful man, who was a key to the partnership that took over Birmingham City and then his beloved West Ham.
I first met him 34 years ago when I was 19, and at 23 when I took over Birmingham City we formed our football partnership .
There was a great friendship, respect and trust between the three of us. Over those years, we have gone through so much in our business and personal lives.
I went from teenager to middle-aged woman with two children and he was always supportive and a dear, dear friend.
A gentleman in every sense of the word, he made time to speak to everyone, from the warehouse to the stewards without any airs and graces.
He lived for his family, his football and his friends.
He and David Sullivan never missed a home or away game in 17 years of owning Birmingham City and not many owners can say that!
He took his daughters and later his beloved grand-daughter to West Ham. All of them his pride and joy. He was never happier than when he was with his girls.
He claimed he drank whisky because he thought his tipple, Tia Maria, wasn't manly enough, we always had a giggle about that!
He flew his own helicopter, once landing in my back garden, only narrowly missing a tree.
He also crashed his plane at the training ground. Passengers beware, none of us would fly with him!
In 1990, before they owned Blues, together they owned 27 per cent of West Ham.
But the club's owners at the time would not even give them a seat at games let alone the board, so they sold their stake, sadly, after about a year.
No wonder they had tears in their eyes when their Boleyn dream became real — two lifelong fans, two local boys made good, two best friends taking over their boyhood club.
The best he could do was keep a prized scrapbook of his mentions for the teams as well as the medals he won playing for the club as a lad.
He really did love WHU, he was a supporter through and through.
No question he was the East End boy made good. Growing up in poverty in a terrace house opposite the Boleyn Ground, he built his own retail business with his daughters by his side and eventually moved to a mansion with his own golf course.
No doubt he'll be wearing our colours in heaven; I bet he is having a kick about with his hero Bobby Moore right now!
Tributes have poured in from across football for him; from players, boards and managers.
ClaretandHugh says: There is little one can add to this fabulous tribute from somebody who knew the late co chairman on a day to day basis and worked with him for so long. But it confirms everything that those who knew him less well have come to recognise – David was a true gentleman. The media is often off limits to people in these positions but not David who was always ready for a chat – sometimes at great length – about the club he loved heart and soul. He was the sort of old skool guy we rarely find in the new and virtual world and couldn't work out how to operate Facebook to save his life LOL. He became very upset with some fans who turned on him in the harshest fashion at the time of the Boleyn move but it wasn't until just before his death that he updated his autobiography to say a word. He was never ready to destabilise WHUFC with any issue. He will of course be hugely missed by all who knew and met him Than you Karren for your tribute.