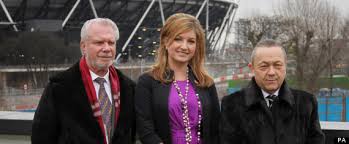 Karren Brady's mobile phone bills were accessed by a private investigator, a court has heard.
Prosecutor Mark Dennis QC told a sentencing hearing at Southwark Crown Court that West Ham vice-chairman Brady was targeted after Tottenham commissioned accountancy firm PKF to examine the bidding process for the right to play at the Olympic Stadium.
The Olympic Park Legacy Company (OPLC) announced in February 2011 that West Ham would be given preferred bidder status for the stadium.
Howard Hill, a former partner at PKF, employed private investigators to get information on West Ham and the OPLC.
Brady and Hammers joint chairmen David Gold and David Sullivan were among the people who became "the focus of attention for this activity", Mr Dennis said.
A report in www.London24.com says the mayor of Newham Sir Robin Wales and several prominent figures in the OPLC were also targeted.
Tottenham have always denied any involvement in the illegal activity.
Hill, 59, from Stockport in Greater Manchester, was given a £100,000 fine at Southwark Crown Court today after pleading guilty at an earlier hearing to obtaining personal data contrary to the Data Protection Act 1998.
Richard Forrest, 31, from Crawley, West Sussex, was given a £10,000 fine, and Lee Stewart, 40, from Esher in Surrey, was fined £13,250 after admitting the same charge.
Mr Dennis told the court that, in February 2011, a man called Vodafone three times and said he had Brady's authority to access her mobile phone data.
Copies of her bills from December 2010 to the following February were forwarded to a bogus email address provided by the caller, which began westhamunited151, and passed on to Hill.
The court heard that a total of 10 people were targeted, including Dionne Knight, OPLC Olympic project director.
Mr Dennis read out an extract of an email sent by Stewart to Hill in which he told him the name, date of birth and school of Ms Knight's daughter had been obtained.
The prosecutor told the court that the Sunday Times published an article in July 2011 which revealed that Ms Knight was in a relationship with Ian Tompkins, Olympic project manager at West Ham, during the bid process.
The article was "suggesting that certain payments made by West Ham to Knight at OPLC may have been improper", Mr Dennis said.
He added that this was "subsequently shown to have been wholly wrong".
Judge Alistair McCreath, Recorder of Westminster, said in his sentencing remarks that Hill "had full control over this project" and "engaged others to do your dirty work for you" for financial gain.
Addressing all three defendants, he said: "By various devious strategies you accessed emails, phone records, bank records and in one case details of where the child of one of your victims went to school.
"The birth certificate of that child was obtained. Surveillance was carried out. Credit reports were obtained.
"It hardly needs stating that you had no right to any of this information."
He added: "What you did caused and continues to cause real harm to a significant number of people."