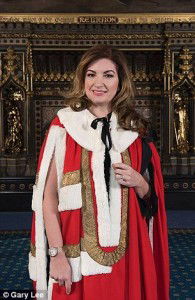 Recent financial accounts submitted to Companies House show that West Ham paid Hammers vice chairman Karren Brady £636,000 for our last season –  a reduction of nearly one million pounds on the previous year when she picked up £1,634,000.
She is believed to have received a£1 million bonus related to the Olympic Stadium bid paid over five years so her gross pay was likely to have been £836,000 including 20% of the bonus payment.
Baroness Brady of Knightsbridge, as she is now known, is believed to have a net worth of around £82m.  In addition to West Ham she is also chairman of Kerrang! and a non executive director for Syco, Mothercare, Arcadia and Sport England.
She was recently appointed to the House of Lords where she can claim a £300 per day attendance fee plus other expenses.
She receives a significant appearance fee for appearing on BBC Apprentice with Lord Sugar. However her West Ham salary is dwarfed byDaniel Levy's £2.2m as CEO of Spurs or Arsenal's Chief executive Ivan Gazidis who pocketed £2m.