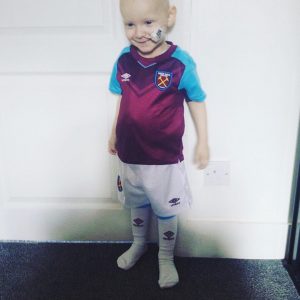 Two-year-old Hammers fan Isla Caton has been diagnosed with a rare form of child cancer called Neuroblastoma which is only diagnosed in one of a hundred children in the UK each year.
It is the same disease which was bravely fought and lost by young Sunderland fan Bradley Lowery.
Isla currently having treatment at Great Ormond Street Hospital but her West Ham supporting family from Hornchurch are trying to raise money to have a vaccine that will give her the best chance of stopping her cancer returning later in life.
Her cousin Charlie told Claret and Hugh this morning: "We have a fundraising page and a Facebook page where we are trying to raise nearly £200,000 to pay to get Isla to America for treatment that isn't available in this country – it's a series of injections that will prevent the cancer from coming back once her chemo is completed here in the UK"