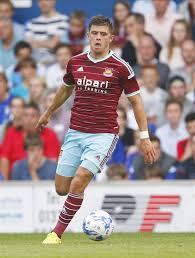 Aaron Cresswell has been named the Premier League's best defender in new statistics released by EA Sports performance index.
The full back current position puts him ahead of notable defenders like Gary Cahill, John Terry and Vincent Kompany.
The rankings comprised by a number of criteria in which players score points for each game they play in.
After the games at the weekend Cresswell has now overtaken Everton star Leighton Baines as the top ranking defender in the League.
He has scored 250 points from the first 15 league games which puts him on an average of 17 points a game. This has helped Cresswell improve his overall position from 25th to 19th in world terms after the match against Swansea.
Baines has spent the past few weeks as the best defender in the top flight and despite improving on his place after his side's draw with Hull City he is now one place behind Cresswell with 239 points but with same average per game.