By Richard Oses
Founder of Bubbles Fanzine Richard tells the Irons to finish with a flourish as the finishing line comes into sight. Find Bubbles Fanzine @https://www.facebook.com/bubblesfanzine?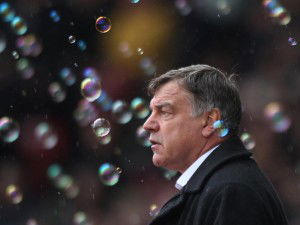 The difficult run is over!
We have all  accepted that West Ham were not good enough to pick up a string of wins against the league's elite. Some would even say we did quite well to draw against the likes of Man Utd and Spurs.
Whichever way anyone look at it we didn't win enough games, end of story.
So now the Hammers face an easier run of games but Sam Allardyce has already put the stoppers on high expectations by stating that Leicester are too good to be relegated and are simply unlucky.
Considering the majority of our remaining fixtures are versus teams fighting for survival or for honour (Man City away) it leaves us as the only team with nothing left to play for.
Where exactly does that leave us then? Are the other teams we face set to put us to the sword because they need the points more?
Do we hold our hands up to the fact that by starting the season in such spectacular fashion set us up nicely for a top ten finish therefore we can all look ahead to next season with nothing to fear?
Absolutly not! Not in my books and I trust most certainly not in yours. That early mentality; whoever we play, whatever the outcome we shall fight till the bitter end for those three points or die trying needs to come back!
That swagger and confidence displayed by the Hammers is the stuff champions are made off.
No, I do not think we should have been in the top four, but at the same time, I think every game is a potentially winnable game if the attitude is right.
This last month and a half of the Premier League that is left to play should highlight and showcase how good this side really is and how no matter who we play or why THEY need the points, we are not here to make up the numbers, we are here to win!
No more half hearted attempts riddled with excuses please.