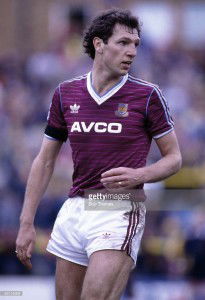 Alvin Martin has revealed that should football return to TV from behind closed doors viewers had better prepare themselves for some pretty blue language.
The Hammers were forced to play Castilla behind closed UptonPark in those circumstances in 1980 after trouble had marred the game at the Bernabeu.
There had been ugly scenes in the away end and there was tragedy after the game when a West Ham fan died after being hit by a bus in the chaos outside the ground.
Uefa responded by fining West Ham £7,750 and ordering them to play their next two European home games at least 187 miles away from Upton Park.
And according to the former central defender with the exception of Trevor Brooking it was a night when the air went blue in the eerie surroundings.
He told the Guardian: ""There was a lot of swearing going on in the game,"
"In all the years I played with Trevor Brooking he never used a foul word. That was exceptional. But that's the way we communicated. You can't just switch that off."
It's an issue broadcasters are going to have to deal with should the game somehow or other manage to get underway again
Martin's teammate David Cross describes it as an eerie experience and remembers finding it hard to summon the usual intensity against Castilla.
He said: "You were conscious of your voice echoing around the stadium. Voices would bounce off the stands and back to you. You didn't get that bounce back off the crowd. You had to shout very loud on a Saturday afternoon to make sure one of your teammates 15 yards away could hear you. We were used to talking very loudly on the pitch.
"In training sometimes we'd play 11 v 11. Sometimes in our own stadium. We were used to playing football every day with no fans there. It's just on match day your fans gave you that atmosphere. I think it took us 15 to 20 minutes to realise we were in a proper match."