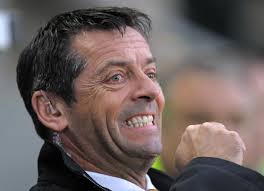 Nobody knows Sam Allardyce better than his former  assistant manager and personal friend Phil Brown.
And the 54 year old Southend United manager – who was the West Ham boss' number two during the Bolton years and his skipper and assistant manager at Blackpool- claims the Hammers boss is facing the biggest challenge of his career.
He told ClaretandHugh: "Sam knows he has a huge job in front of him winning over the Irons fans and I reckon if he does so will be the biggest victory of his entire career.
"I know for a fact that nothing would give him greater pleasure than to do that and I also know he is well up for meeting the challenge from them."
Brown believes Allardyce's reputation as a long ball "merchant" is down to Graeme Souness who slaughtered him on Match of the Day.
He explained: "We stuffed Liverpool once or twice but Souness came out saying: ' You can't call that football – it's hoofball'…the reputation has stuck and it's not fair.
"Sometimes supporters are a tough bunch to please and clearly many West Ham fans hark back to the days of Bobby Moore, Alan Devonshire, Trevor Brooking, Martin Peters … so they should.
"The Hammers fans have every right to be very proud of their history and they should never be told to shake it out of their hair – everyone of us should be proud of our club's heritage. I love the Sunderland legends. It's part of what we are.
"The game has changed though, one million per cent, and we have to move on and embrace the future.
"I was with Sam throughout his Bolton years as numberTwo and I have never heard him talk about lumping it long.
"Nobody accused David Beckham of doing that when he was supplying the balls for Ruud van Nistlerooy to score so many goals at Old Trafford were they.
Nobody gave Paul Scholes a hard time when he was hitting 50 yard diagonal balls – I don't get it.
"Ok last season was not the best for the Hammers and there has been a change in policy both on transfers and the style of football required.
"The fans will need to be patient and I hope there won't be a reaction whenever a player hits a ball over 30 yards. Sam can mix it up – but he has to get a fair crack of the whip.
"I hope he can win the fans over and I hope he can but if the Hammers are to play a different kind of football there will need to be some heavy investment.
"I believe Sam can take the club into the top ten but for every two or three places beyond that there will need to be more and more investment."