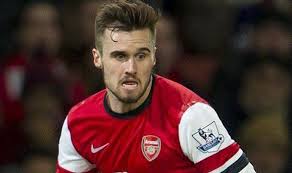 Arsenal's Carl Jenkinson is today being freely tipped as being close to joining the Irons although it's not clear whether it will be a loan or permanent move.
Sources inside the Boleyn were tight-lipped over the right wing back's possible move with one saying: "We don't want other clubs knowing what we are doing at this stage so no comment."
In reality that reads very much as though he is on his way and the cat appeared to have been let out of the bag by Hull City boss Steve Bruce .
He told TalkSport: ""There are about five or six clubs who would be interested in Carl Jenkinson,He's a very good player. We did show an interest in him.
"West Ham manager Sam [Allardyce] is in the box seat though because they are in London.
"When a really good young player comes out of Arsenal, or one of the big clubs, then the likes of Hull will always be looking at them.
"He's got the choice of five or six clubs. From what I understand Carl wants to stay in London."