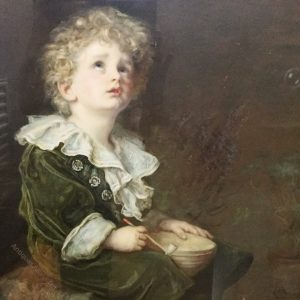 Research from the late Professor David Farmer that suggested West Ham supporters picked up their most famous song from Swansea during an FA Cup tie in 1922.
A soccer history article debunks the idea, suggesting there is little evidence of a connection.
While it is the case that Swansea fans had been singing 'Bubbles' the previous season, the band engaged for the match at the Vetch Field was the Artillery Band, which is reported to have performed "pleasing and military music" (Football Post, 7 January 1922), the same source notes that "there was no singing" before the game. '
Bubbles' was certainly a popular song that appeared on the programme played on many occasions at bands both at the Vetch Field and elsewhere at the time. The song was composed in 1918 and first released and performed in 1919. 
Bubbles were played by the band at Millwall later that season, and almost certainly elsewhere in football. It would seem that this was an era of 'Bubbles mania,' the popular song becoming associated with a well-known advertisement for Pears Soap and the image of a young boy with curly hair, but there is no specific evidence to indicate that West Ham supporters drew their inspiration to adopt the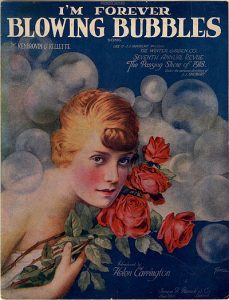 song from these cup-ties (the match went to a second replay at Ashton Gate before being resolved).
It was in the 1920s that singing began to take off at football grounds. The stadiums were better developed, crowds were bigger (especially for FA Cup ties) and the presence of covered terracing helped amplify the sound. When big crowds were expected clubs often open the gates at least two hours before kick-off and employed bands to entertain the spectators.
While some bands (especially military bands) stuck to formal tunes, others played the popular music hall hits of the day, and of course 'Bubbles' was the biggest hit of the early 1920s. It is therefore not surprising that 'Bubbles' was sung at Swansea, West Ham,  Millwall, and probably at other grounds at this time. Fans at the Vetch Field would wave white handkerchiefs in the air when singing the song.
The history article says the Hammers 'Bubbles' anthem is almost certainly a song developed by the fans independently and not copied from other clubs.