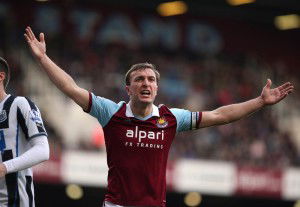 West Ham will take up the two year option on Mark Noble's current contract at the end of the season whilst preparing a bumper new deal for the loyal midfielder.
The Hammers board are entirely relaxed about the position with the midfield ace but are keen to ensure that his value as a player and loyalty are rewarded.
They may have their problems convincing Winston Reid he can achieve all his aims at  the club, but negotiations with Noble are expected to prove much more straightforward.
We were told today: "We have no worries on Mark as we hold a good option on him and we intend to offer him an improved contract at the end of the season.
"We would hope that will tie him to the club for several years to come – maybe even to the end of his playing days. We are preparing the deal and would expect him to sign."