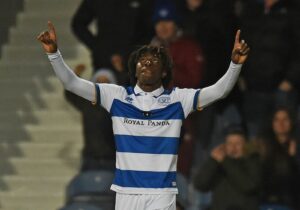 David Moyes wants to move on his 'big two' midfielder  Manu Lanzini and Felipe Anderson as he attempts to raise the cash to bring in exciting QPR star Eberechi Eze.
But Lanzini and Anderson won't be allowed to leave on the cheap as the cagey Moyes looks to see how the summer market works out in terms of prices.
But there is now doubt that the two South Americans are high on the list of players he  would be ready to move on in order to make a bid for the exciting attacking midfielder who would almost certainly be used as a no 10 should he arrive.
QPR – as a cash strapped Championship outfit – want an alleged £20 million for the 22 year old but will probably need to settle for closer to £15 million unless an unlikely high bidding war were to develop with the likes of Palace and Southampton.
With his contract expiring at Loftus Road next June they won't be in a position to demand the earth as they could lose him on a free at that time.
The Hammers have made it clear that Moyes has to sell to buy but there are unlikely to be too many PL clubs ready to splash major cash for Anderson who is more likely to attract interest from Europe whilst the manager will  wait to see what emerges in relation to Lanzini.
Moyes – discussing the market – said:"I think you have got to remember that the club spent £200 million [recently]," "We'll try and add to it if we can, if we can't we'll go with what we've got and there are a lot who can improve and a lot who have since lockdown,
"Micky Antonio is an example of that. We'll try and get the best out of the players and if we can add to it we will do."